"I'm afraid, madam, he has made his final journey, across the stygian shore" "What?" "He's dead"
IL CLAN DEL TERRORE (FULL MOVIE)
The Comedy of Terrors,
USA 1964, Horror,
durata 84'
Regia di Jacques Tourneur


Cast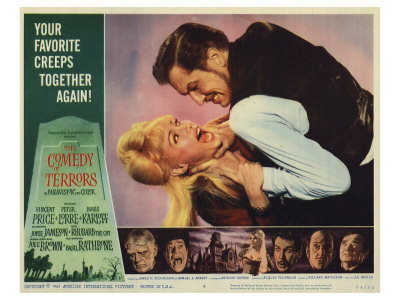 TRAMA
Trumbull, proprietario di una modesta impresa di onoranze funebri, decide di incrementare lo scarso lavoro uccidendo un vecchio castellano con la speranza di poter trarre dai costosi funerari della vittima un guadagno sufficiente a permettergli di saldare alcuni debiti. Risoltasi in un insuccesso l'operazione, Trumbull, con la complicità del suo aiutante Gillie, ripete il tentativo ai danni del suo principale creditore, il signore Black. Convinto di averlo ucciso, Trumbull se lo vede invece comparire davanti poco tempo dopo per un singolare caso di morte apparente. Alla fine di una serie di scontri, muoiono tanto Trumbull quanto il signor Black, mentre Gillie si allontana in compagnia di Amaryllis, la bella moglie del suo principale.